STUDER A810 Professional Tape Recorder

You will find on this page rare official marketing material from STUDER for the STUDER A810 Professional Tape Recorder. We hope you enjoy this historical document.

The STUDER A810 is a popular model among hobbyists and archives. Hobbyists and archivists both like the A810 for its solid performance, flexibility, and relatively compact form factor - in fact, STUDER officially calls the A810 a "compact model". The STUDER A810 is not in the same league as the STUDER Master Recorders such as the STUDER A820, STUDER A800 and the STUDER A80, but it neither costs as much nor is as physically large.

Unlike the STUDER A820, there is a relative abundance of used STUDER A810 parts and machines. Consider that nearly ten times more STUDER A810 Professional Tape Recorders were manufactured than STUDER A820 Master Recorders.

We do not use the STUDER A810 at The Audio Archive anymore - although we still have our three A810 machines in storage. Once we started using the STUDER A820 and experienced its jaw-dropping performance, we decided to standardize on the A820 and temporarily retire our A810 machines.

We say "temporarily retire" because at this time we do not treat and transfer tapes with mold and fungus. But if and when we do offer this service, the STUDER A810 machines will form the foundation of our moldy tape workflow. It is important to have a separate workflow for moldy tapes so that clean machines and clean tapes do not get contaminated.

The text and images below are taken from a vintage 1980s STUDER A810 Professional Tape Recorder brochure. Copyright WILLI STUDER AG, CH-8105 Regensdorf-Zurich, Switzerland.

Rather than simply scan the brochure, we transcribe the text in its entirety so that it is searchable from The Audio Archive search box on this webpage. In a few places, we do make comments and highlight features of the STUDER A810 - these comments and highlights are in an alternative color.

This is not your typical marketing brochure. STUDER clearly has the heart and mind of an engineering company - the STUDER machines were made by tape recording perfectionists, for tape recording perfectionists. Rather than hyperbole, the brochure reads more like an introduction to an operating manual or a product management MRD (Marketing Requirements Document). The German-to-English translation by STUDER is a bit clumsy at times, but still very readable and immensely informative.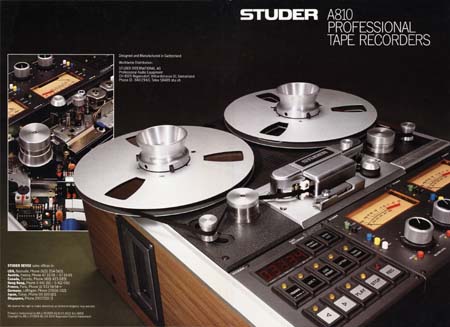 STUDER again breaks down all barriers and establishes entirely new standards for analog tape recorders

Studio tape recorders, especially compact models, must adapt to a varietly of different requirements. Applications covered by these machines may range from a simple editing station to recording and playback in studio or OB control rooms or for synchronized productions in audio dubbing centers. In contrast to larger machines, these recorders frequently fulfill multipurpose functions. Versatility, therefore, is a prime design objective objective for any state-of-the-art recorder that fits into a 19" rack!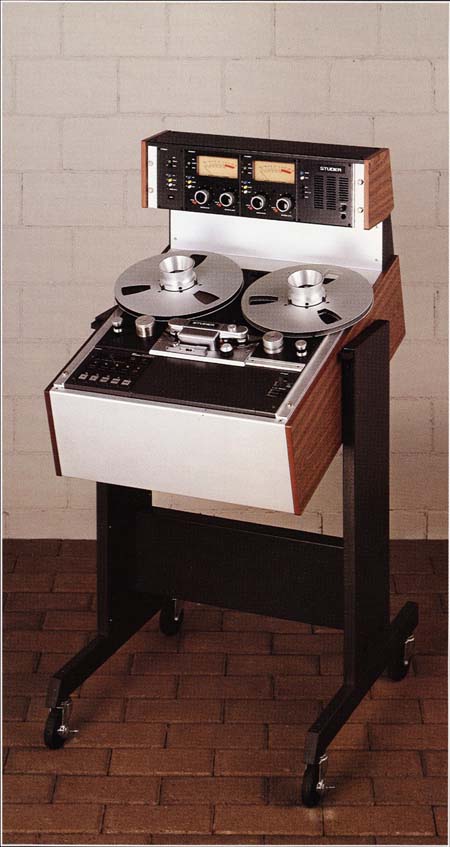 STUDER A810-VUK version. With VU-meter panel and sturdy all-metal console. Advanced technical concept combined with appealing and ergonomic styling.

High System Flexibility - Ready for the Demands of Future Studio Systems

With the development of the STUDER A810, however, STUDER has taken a step beyond these basic requirements. In addition to the versatility you'd expect from STUDER's extensive experience with modular microassemblies, the STUDER A810 also opens the way to unprecedented system flexibility. Because of its innovative concept, the STUDER A810 can be integrated into the digital control systems of future studio equipment.

Digital Control - The Key to Unprecedented Possibilities

The control network of the STUDER A810 was designed as a digital system from the beginning. This means that the recorder's operation is fully programmable - not only the tape transport functions but the audio parameters as well. The STUDER A810 is bus-compatible through an optional serial remote port. Digital remote audio set-up and automatic self testing are also standard features. With the accurate SMPTE time code system of the A810, no track need be sacrified for synchronizing.

A810 console versions - The modern recorder for the small studio, versatile and space-saving

The STUDER A810 is designed for 19" rack or console installation and operates in any position from vertical to horizontal. Standard models for mono, stereo, two-channel, and two-channel with time code are available. All console versions can be ordered with or without VU-meter panel penthouse.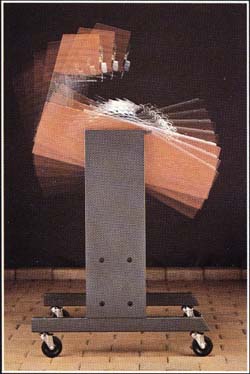 STUDER A810 consoles have no laterally protruding parts which means that flush side-by-side positioning is possible. The machine can be securely locked in 7 different working positions by means of catches on both sides. It can also be tilted upright for maintenance work.

The monitor speaker is built into the slated VU-meter penthouse and there is sufficient space for two audio channel control units and an additional control unit (time code channel control or varispeed control).

A special console version for time code models features a VU-meter penthouse with integrated synchronizer controller and also a 19" pedestal in place of the center traverse. The pedestal (3 units high) accomodates, for example, the TLS synchronizer or Dolby units.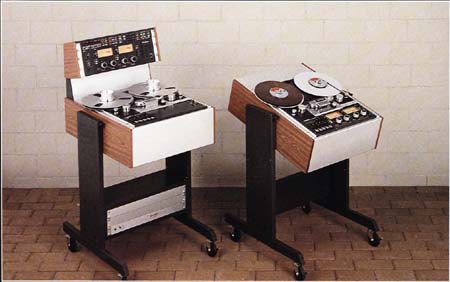 The console shown on the left is a version with built-in STUDER TLS 4000 synchronizer. The control panel is installed in the VU-meter penthouse, the synchronizer in the console rack. (Vacant space for any 2 modules, e.g. noise reduction system.)

Quality Console - Designed for Heavy Use

The STUDER A810 all-metal console offers rigid construction with catches on both sides. The recorder can be locked in 4 forward and 2 backward tilted positions (7.5 degree increments). Forward tilting to 90 degrees is possible for maintenance purposes.

To ensure maximum abrasion resistance, the console panels are powder coated and subsequently baked in a furnace.

Precision Engineering for Professional Performance in Minimum Space

Designed for 19" rack width, the STUDER A810 can be readily installed in any standard housing without sacrificing maintenance access.

The handles can be attached to the two die-cast side walls for transporting the chassis versions. A set of wooden side panels with handles is available for recorders used as free-standing units.

All chassis versions are completely autonomous and are equipped with a monitor speaker that is built into the tape transport cover.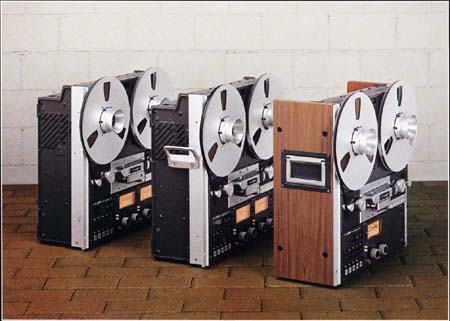 Comprehensive Accessories Also Include the Popular Transportation Case

Three different transportation cases complement the A810 chassis program. Two of these are conventional transportation cases for chassis and portable versions (also those with wooden side panels). In the third style, the STUDER A810 is permanently installed and ready for operation as soon as the cover is removed. The exceptionally rugged STUDER A810 transportation cases feature reinforced corners and shock-absorbing inserts to ensure that the valuable tape recorders withstand rough trips. The cases also effectively protect the STUDER A810 from dust.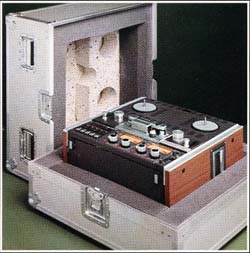 Three rugged aluminum transportation cases are available for the STUDER A810. The best protection in rough assignments.

Compact Design - Ideal for 19" Rack Mounting

The STUDER A810 makes it easier to cope with space limitations. Where multiple machines are to be installed, rack mounting saves considerable space. But other important criteria are also met: front accessible audio and tape transport electronics; comprehensive remote control and remote audio set-up through the bus; clocked pulse-width-modulated spooling motor control for low heat dissipation; and a broad range of tape speeds.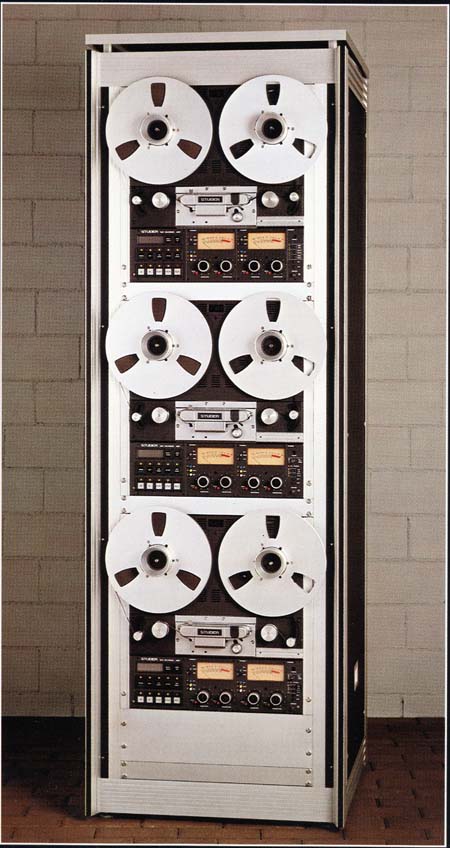 STUDER A810 - Ideal for rack mounting because all controls and maintenance points are fully accessible.

For special applications the rack modules of the VU-meter panel in VUK versions can be installed separately; its connecting cable has a length of 1.5 meter.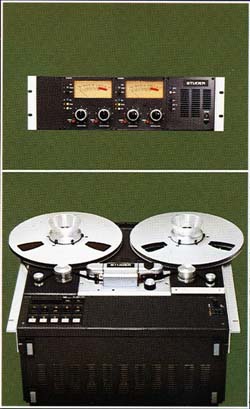 The separate VU-meter panel of the VUK version is connected by a 1.5 meter cable and can be installed separately from the tape transport.
The Sum of the Features Proves the Viability of the Concept

STUDER A810: Tape Transport Technology

Servo-controlled tape transport
Servo-controlled capstan motor for 2- and 4-speed versions.
Tape speeds selectable directly on the front panel.
Capstan controlled by microprocessor quartz reference and capacitive sensing tacho system.
Spooling motor control with pulse-width modulation (PWM).
Rigid precision headblock. Ceramic tape guides. The complete headblock can be removed and reinstalled while maintaining fully reproducible azimuth and tape path alignments.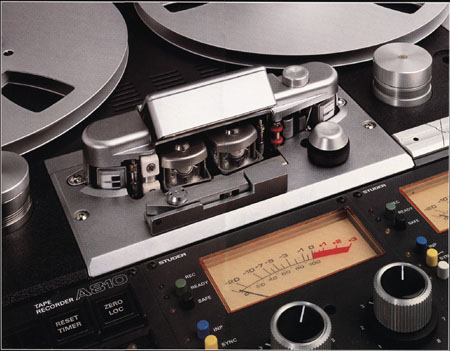 High precision mechanical components combined with state-of-the-art electronics joined in perfect harmony - fully realizing the STUDER product philosophy which combines decades of experience with sensible innovations for the future.
STUDER A810: Microcomputer System Control

The microprocessor infrastructure encompasses all operator controls, tape transport control, and switching of the audio electronics.
Real-time display for all 4 tape speeds. Immediate display of translated real time when switching over between speeds.
Readout of transferlocator positions.
Hexadecimal display for audio parameters for each tape speed and tape formulation.
Automatic self test during power-up sequence, when changing functions, and when entering mode. Diagnostic messages in the event of malfunctions.

STUDER A810: Programmable Audio Parameters

All audio parameters are programmable.
Individual audio parameters are stores for all 4 tape speeds and for 2 types of tapes as well as for NAB and CCIR standards.
Parameters are entered through digital push buttons. Trimmer potentiometers, normally used for this function have been eliminated.
Digital storage of audio set up means that amp cards for record and reproduce functions can be replaced during maintenance without realignment, calibration tapes, etc.
Unlimited off-line storage for audio parameters through a serial communications interface (option).

STUDER A810: Sophisticated Audio Electronics

The electronics of the STUDER A810 are the culmination of many years of development and refinement.
Special phase correction circuits in the record and reproduce amplifiers do not require any alignment.
Excellent flat frequency response even at the critical high and low frequency range limits.
Sync reproduction and SAFE / READY switch included.
Drop-in / drop-out tape travel compensation.
Meters switchable for either VU or PPM indication.

STUDER A810: Time Code and Stereo Recording on 1/4" Tape (option)

Time code recording with SMPTE code on "third" track.
Cross-talk rejection between time code and audio better than 90 dB.

STUDER A810: Future-oriented Serial Interface (option)

Comprehensive control and status communication for tape transport, audio set-up, timing and amplifier parameters.

Programmable Function Keys

The STUDER A810 is very easy to use because of the logically grouped controls. Large faced keys with acknowledgement LEDs convey a clear picture - even when the operator is working under stress. The user can reprogram the standard function of 3 center-row keys fo a variety of operations.

LOC 1

, transferlocator position 1

LOC START

, searches address of the last PLAY (REC) command

LIFTER DEFEAT

, momentary or continuous disabling of tape lift, programmable

TAPE DUMP

, dump edit mode

These keys can also be used for programming 4 search-to-cue locate functions (LOC 1 through LOC 4). Any of the following optional functions can also be implemented:

FADER START

, activates fader start (local command kes are disabled). Built-in monitor speaker is automatically muted when fader is open.

REM CONTROL

, activates parallel remote control (local command keys are disabled).

CODE READY

, enables recording on time code channel.

Code switches are available for programming these command keys in any combination. The labels on the soft keys are user exchangeable so that keys correspond to the assigned function.

The multifunction TRANSFER key also simplifies operation: it is used to read in the locator positions; or, in conjunction with the spooling keys, to select one of the 3 microprocessor-controlled spooling speeds.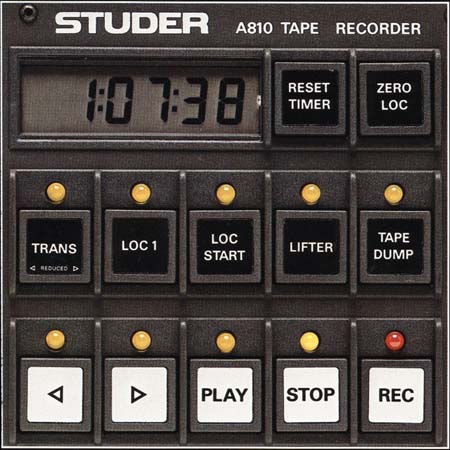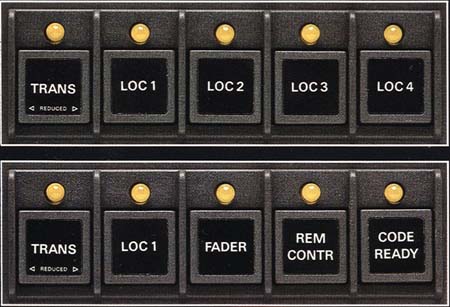 Soft keys in the command key panel greatly enhance the scope of selectable functions while preserving the operating ease of the STUDER A810.

The operator panel that adapts itself to the requirements of the user - and not vice versa
Command Data Bus for the Audio Channel Control - an Elegantly Efficient Solution

A simpler and better laid out audio control panel with such comprehensive functions is virtually impossible to conceive. The channels are controlled by momentary push buttons paired with different colored LEDs for active status indication. The controls are arranged in function groups such as SAFE/READY change-over, selection of reproduce mode REProduce/SYNChronous (reproduction from record head) / INPut; record and reproduce level controls with corresponding enabling buttons (uncalibrated mode when UNCAL LED is on). Large, back-illuminated precision meters provide the operator with accurate level information. The instruments can, of course, be switched over (with coding switch) for either VU or PPM indication.

Additional benefits with respect to the audio channel units are obtained from the state-of-the-art data bus control which can either be installed in the chassis or in the VU-meter penthouse. The channel units are very shallow and therefore provide excellent access to the entire circuit board rack and the control electronics located underneath. All programming buttons, coding switches, and status indicators are accessible by simply raising the hinged front panel.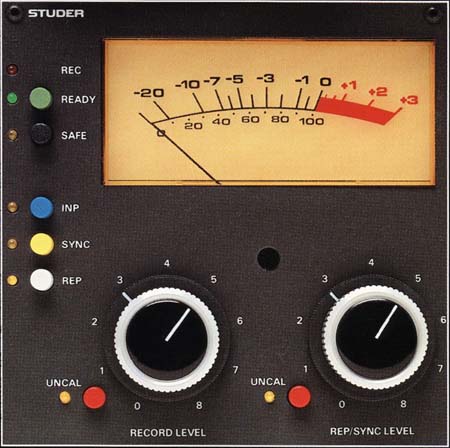 The audio electronics: functionally clear and remarkably advanced

Central Control for Tape Speeds, Equalizations, Tape Types, and Mono/Stereo Mode Switching

4-Speed versions

Four tape speeds (30-15-7.5 and 3.75 ips) selectable with rotary switch; capstan lock indicated by LED. Momentary push buttons and LEDs for selecting: equalization NAB/CCIR, tape type A/B, and STEREO/MONO mode on correspondingly equipped models.

2-speed versions

Tape speeds 15-7.5 ips (or 7.5-3.75 ips, internally programmable) selectable with push button. Capstan lock indicated by LED. All other push buttons are the same as on the 4-speed version. The chassis versions feature a headphone output as well as a volume control and channel selector for the built-in monitor speaker. (On versions with VU-meter penthouse these controls are arranged next to the panel speaker.)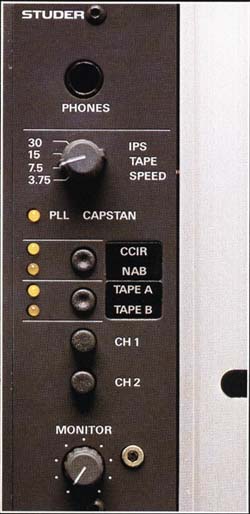 Modular Audio and Tape Transport Logic with Direct Manual or Electronic Access

Modular electronics for maximum audio quality and ease of maintenance

The modular audio electronics of the STUDER A810, conveniently accessible below the front panel in any recorder position, combine advanced, phase-corrected amplifier concepts with powerful digital control and storage technology. To ensure maximum pulse fidelity, the record and reproduce amplifiers are carefully compensated for ideal phase response.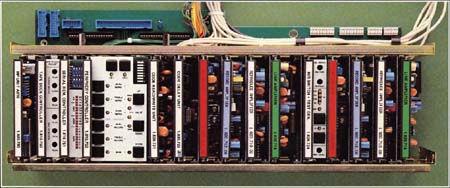 Complete audio and control electronics are readily accessible below the front panel.

All amplifier parameters are entered and stored in digital format; trimmer potentiometers have been eliminated, thus greatly enhancing operational reliability. Accurate reproducibility of digitally stored audio parameters is an important feature which allows all parameters of a specific tape formulation to be set with the push of a button or read in from an external storage medium.
The superior concept of the STUDER A810 demonstrates its full strength in an automated system because a serial interface provides full access to the tape transport functions as well as complete audio set-up memories.

The following functionality grouped modules, installed in the card rack below the front panel, are accessible for programming and maintenance:

For audio channels 1 and 2 each: Record amplifier / RF driver stages (for bias and erase frequency) / reproduce amplifier / Line amplifier
Mono/Stereo switch, with or without test generator (option)
Time code read/write amplifier and delay unit (TC versions only)
Peripheral device control (including keyboard for parameter input and bus converter)
Serial remote controller with LED bus analyzer
Tape transport controller with parameter input
Microprocessor

With Digitally Selectable Audio Paramaters, Remote Audio Set-Up Is Now Reality

STUDER introduces digitally controlled analog technology

The amplifier parameters are entered through the PERIPHERY CONTROLLER keyboard rather than with the potentiometers. All alignment parameters for the record, reproduce and sync amplifiers can be conveniently entered for each channel and tape speed. Push buttons are provided for level, treble and bass correction, and bias, with status indication by LEDs.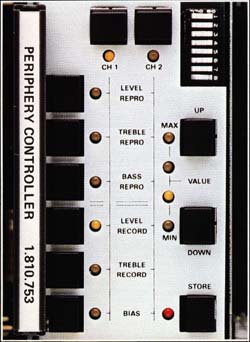 Keyboard of the periphery controller.
All settings are established by non-contacting 8-bit D/A converters in increments of 256 steps per parameter (corresonds to one turn of a potentiometer, resolved in 256 microsteps). The approximate value can be determined from four LEDs; the exact value is indicated in hexadecimal format on the tape timer display. This value is accurately reproducible at any time and can be recorded on a set-up log.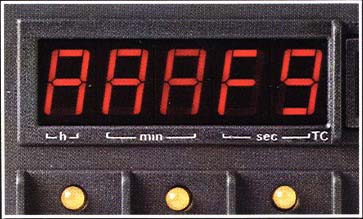 The hexadecimal display of the tape timer also indicates the memory contents and diagnostic messages if a fault is detected, e.g. AAF9 corresponds to "Audio Adjust 249" (F9 in hexadecimal format is equivalent to the digital value 249).
Convenient Data Protection, Internally As Well As Externally

The input parameters are written into an electronic memory with the push of a button. This memory is non-volatile, i.e. its content is preserved even when the recorder is switched off. The stored parameters can be read out at any time on the tape timer display.

The parameters stored in memory can also be read out and transferred to an external storage medium (audio tape of the same STUDER A810, cassette recorder, or host computer).

Precision, Stability, and Sophisticated Microcomputer Control - The Standard of the Future

The microcomputer control stores not only the audio parameters but also the tape timer content, the selected tape speed, and the locator addresses. The latter are computed from the tape timer pulses which means that they are not influenced by the tape speed. All addresses are displayed in real time (as on the tape timer).

The following characteristics can be defined to the STUDER A810 through simple programming with code switches:

Drop-in (from play) with PLAY + REC keys together or with REC key alone.
RF oscillator matching to type of erase head or disabled for reproduce-only mode.
Individual or common channel control.
Individual or common audio parameter set-up for NAB and IEC (CCIR).
Tape type selection ("TAPE A" or "TAPE B") linked to tape speeds (in conjunction with mono/stereo selector electronics).
Tape travel compensation for time-coincident drop-in and drop-out.
Frame standard in time-code mode (24-25-30-29,97 frames/s).
Bandwidth selection of sync channel (12 or 20 kHz).
VU or PPM indication.
Line level (operating level) programmable for 0, +4, +8, +10 dBm (or reference level +6, +10, +14, +16 dBm).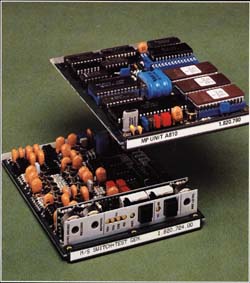 High-quality electronics, grouped by functions, ensure excellent maintainability.
The Digital Solution To An Old Problem - SMPTE Time Code on a "Third" Track

Up to now, a track on the tape of a multichannel machine had to be sacrificed for time code synchronization. A very inefficient method to say the least! The new STUDER time code is an elegant and highly accurate solution: the SMPTE/EBU time code is recorded on a 0.38 mm wide center track between the audio tracks of a two-channel recording. Special record/reproduce heads located on either side of the audio heads are used for recording and reproducing the time code track. A head with an erase and record gap is located on the right-hand side, the time code reproduce head is integrated in the audio erase head.

Because of the physical separation of audio and time code heads, the Studer system guarantees a sync-to-audio crosstalk rejection of at least 90 dB!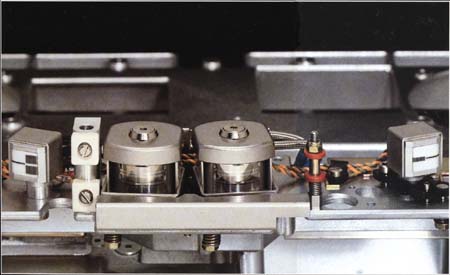 Separate time code heads; professional, rigid construction; and accurate tape guidance guarantee exceptionally high cross-talk rejection between time code and audio channels
Dynamic Memory - Microprocessor-Controlled - Ensures Accurate Time-Coincidence with the Audio Signal

The physical separation of the audio and time code heads result in a time off-set that depends on the tape speed and the direction of the tape travel (editing). This problem has been solved in the STUDER A810 by a delay line that is controlled by a separate microprocessor. The tape travel times are automatically and exactly compensated for all speeds, including varispeed functions.

Because of this accurate synchronization between the audio channels and the time code channel, no time offset is required at the synchronizer, and a recorded tape can be cut and spliced by conventional methods.

The STUDER A810 time code recorders (TC versions) can master applications that were previously the domain of expensive multi-channel machines.

Video-audio / film-audio / audio-audio interlock
Broadcast automation
AV system control
Audio logging

For additional information in conjunction with the STUDER Tape Lock System 4000 (STUDER TLS 4000) please refer to the production information PI 3/83.

Varispeed

Infinitely variable control of the tape within +/-7 semitones is possible with the varispeed feature. Speed variation controlled with 10-turn helical potentiometer; indicating range 0 ... 999. Nominal speed corresponds to 500 or a reference frequency of 9.6 kHz.

Available for integration in chassis versions and for installation in VU-meter penthouse.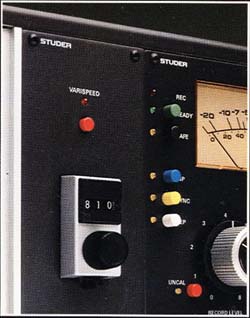 Tape Marker

For marking the cutting point above the reproduce head gap. Operates with very soft marker.

Tape Scissors

Installed adjacent to the reproduce head; produces clean, parallel tape cuts. Scissors actuated by pressing large push button in the head block cover. The tape marker and the scissors are available separately or as a set.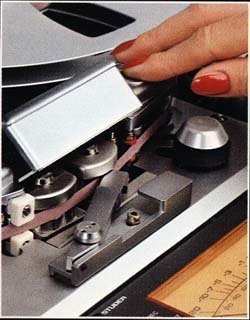 Mono/Stereo Switch

Plug-in circuit board with complete electronics for mono/stereo switching

M/S Switch and Test Generator

Plug-in circuit board as above. Also includes built-in test generator for frequencies of 60, -125 Hz, -1, -10 and 16 kHz. The signal can be attenuated by 10 dB and gain in the reproduce path will be boosted by 10 dB automatically. Therefore, the recorder can also be calibrated for slow tape speeds with the aid of the built-in precision instruments.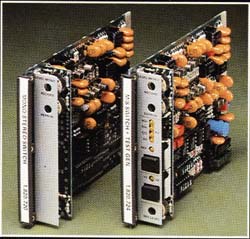 Service Adapter (extender board)

Adapter board for testing circuit boards outside the rack module. Convenient access to the test points on the circuit board is provided, a prerequisite for efficient maintenance.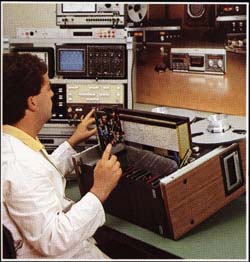 Tape Transport Remote Control

Remote control unit for the tape transport functions complete with key for selecting reduced spooling speeds and transferlocator (1) input.

Additional keys for:

RECAP

itulation; rewinding continues for as long as this key is held, and play is initiated as soon as it is released.

LIFTER

; defeats the tape lift function.

VARISPEED

; actuates the variable tape speeds. BNC socket for feeding in the reference frequency (nominal 9.6 kHz).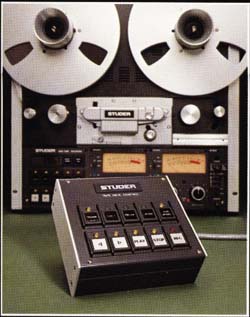 Interface for Controlling Noise Reduction Systems

Complete unit with connector, flat cable, and cover for the control adapater of noise reduction systems compatible with Dolby and Telcom C4.

Available for chassis versions or for installation in VU-meter penthouse.

Noise reduction system manufactured under license from Dolby Laboratories Licensing Corporation. "DOLBY" and the double-D symbol are trademarks of Dolby Laboratories Licensing Corporation.

Telcom c4 is a Trademark of ANT-Nachrichtentechnik GmbH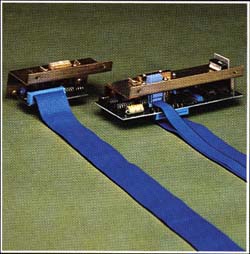 Serial Remote Port Provides Access to All Machine Functions

Serial remote port according to RS 232C standard with additional special bi-phase interface for audio alignment data transfer onto tape. LED bus analyzer for trouble shooting. Switchable baud rates: 300/1200/9600 Bd. Multipurpose serial remote port in preparation. Retrofittable into all A810 machines.

Bus-Oriented Control Concept with Interface for the Computer-Controlled Studio Environment of Tomorrow

For the first time, with the A810, a control system has been implemented that coordinates the data flow of all functional groups to a degree that far surpasses the traditional control functions. A serial interface RS 232C, [RS 422, RS 422 modified (SMPTE/EBU compatible) in preparation] provides access to the memory locations of the audio parameters and totally new facilities for comprehensive control, analysis, and efficient diagnosis are now available. Additionally, there is a special bi-phase interface which enables the transfer of audio alignment data onto tape for storage. Facilities for specific addressing of each machine and the selectable baud rates (300/1200/9600) give the system a high degree of flexibility.
Audio Set-Up from a Service Computer - the New, Efficient, and Reliable Solution

The memory content of each machine can be verified with unprecedented efficiency and reliability by simply connecting a control computer to the serial interface. New audio set-ups no longer consume a vast amount of valuable time when a computer is used.
Fully Compatible with Studio Computer Systems

The dream of controlling one or, simultaneously, several addressable STUDER A810 recorders remotely from a computer terminal has now become a reality. The STUDER A810 is eminently suited for automated studio systems where full access to each machine is required.
Storing the Audio Parameters on an External Medium

The audio paramters can be saved on an external medium, e.g. a compact cassette or on the audio tape of the same STUDER A810. The data can be reloaded through the serial interface.

Efficient Audio Set-Up with Service Computer

The serial standard interface RS 232C supports computer-controlled audio set-up. The computer can verify the stored parameters at any time. New audio set-ups require a minimum amount of time and can be performed with exceptional reliability and absolute reproducibility.

Convenient Computer-Supported Remote Control

Perfect access to all tape transport and audio functions through an RS 232C serial interface for various computer types with different capacities.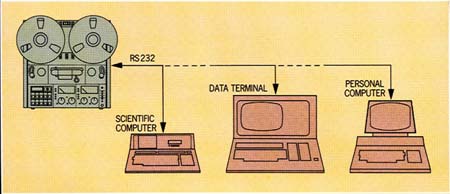 The Studio Automation of Tomorrow - Implemented Today

Host system control, supported by the addressability of the STUDER A810 recorders, paves the way for future automation. By following the SMPTE/EBU standards (RS 422), a control computer can handle a single A810 or several A810 recorders simultaneously.